Welcome to Baan Andaman Sea & Surf Hotel
Enjoy a holiday in one of the most enchanting places in Patong, Phuket, Thailand. Located close to the beach and near the heart of all the nightlife and entertainment.
We are a family owned 12 room and 2 apartment, surf themed, hotel located on a quiet hill in Patong. Our spacious standard rooms with balcony, king size beds, air-conditioning, flat screen cable tv, free wifi, kitchenette and refrigerator will make you feel right at home.
Need more space and comfort? In our Nalu House we have our 1- and 2 bedroom apartment with full kitchen, separate living room, big cozy balcony and nice spacious bed- and bathrooms. Prefect for families or a group of friends.
During the day you can relax on our own piece of Patong beach or at our private hotel swimming pool. You will find our hotel has the best of both worlds. Quiet, clean and with all the facilities, yet close to everything else Phuket has to offer.
Look for the exact location on the Contact & Location page. The Hotel is 45 km from Phuket international airport and 14 km from Phuket town.
Here you can read our reviews on Tripadvisor
---
Andaman Sea & Surf School – Board & SUP Rental
At our Surf School we provide surf lessons for beginners. We are certified professionals with ISA trained coaches. We have all the equipment needed for teaching how to surf. You only need to bring your swim clothing and a towel. Sunscreen is advisable.
The best period for surfing and surf lessons in Phuket is from May to November.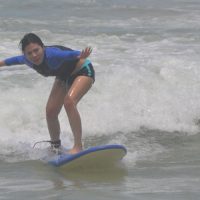 You can choose your favorite Phuket beaches to surf an learn to surf. The Andaman Sea & Surf School is located on the north end of Patong Beach, Kathu, Phuket Thailand.
Here you have a nice beach break for all levels. Kalim reef break is just around the corner.
At Andaman Sea & Surf school you can rent surf and SUP boards. If you want to travel light you don't have to bring your own board.
Look for the exact location of the surf school on the Contact & Location page.
---
Andaman Sea & Surf Trips
Andaman Sea & Surf organize several one-day surf trips in and around Phuket. If you want to go of the island we can arrange a two day, one night trip to Khao Lak for you. We even organise group surf trips outside Thailand to places like Indonesia and Malaysia.
Located in de the middel of Java, Indonesia it has been a hidden gem for a long time. Now it is your chance to go off the beaten path to a truly magical place. In July of 2022 we organize a epic surf trip there. Clear you calendar and join us from 9 to 16 July. This is your change to surf this epic point break.
There are limited places available and spots are filling up fast.
---
For hotel booking contact us @
booking@baanandamanseasurf.com
+66 89 97 32 161
LINE: @baanandamanseasurf
For surf school contact us @
surfschool@andamanseasurf.com
+66 89 97 32 161
LINE: @andamanseasurf